Starting here tonight... Gabrielle Faust has some details on the upcoming
NYC Vampire Ball
, set for Feb 14th.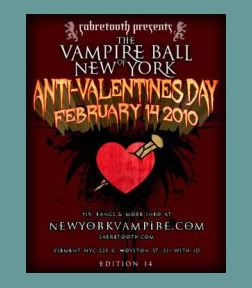 Gabrielle has also revealed the artwork for the third in the brilliant "
Eternal Vigilence
" series of books.
Shocktilyoudrop has spied the first look at Corey Feldman in "
Lost Boys 3
"
Vampire cafe has news that the "
let the right one in
" remake will be out on October 1st.
Dread Central has news that "
demons
" set viewing records for BBC America.
Vampire Cafe spotted this, a clip from episode 1 of "
Being Human
" season II
A couple more Daybreakers clips... one here from
Horrormovies.ca
, and one from
DreadCentral
. Bloodydisgusting has an interview with some of the cast
here
.
NME has more on Sir Christopher Lee's upcoming album
here
, including a few clips.
Castlevania rebirth is now available for the Wii, details are
here
.
E!Online has news that Alan Ball has been signed up to produce at elast 2 more seasons of "
True blood
" - damned good news!
Taliesin today reviews "
Krasue Valentine
" a film from 1996 by Yuthlert Sippapak