I'll start the blog tonight with a note from Jordan Galland, the Director of "Rosencrantz and Guidestern are Undead"
Dear Undead Friends,
I'm proud to announce that "Rosencrantz and Guildenstern are Undead" will be available on DVD and Blue-Ray, November 2.
You can pre-order it at Amazon.
The DVD includes never-before-seen outtakes and deleted scenes as well as Interviews with the director (me) and the cast. It also has the Director's Commentary (which I recorded alone in my room on a very hot day in July, with no air-conditioning, slowly going insane as I talk about the film.) And 5.1 surround sound option.
We appreciate your help and support. Please add the film to your Netflix cue.
Jordan Galland
Vampire Cafe hoovered up all the links around the finale for True Blood season 3
here
.
VC also spotted this NSFW interview with Tara.
BloodyDisgusting has the impressive tv figures for the
True Blood
finale.
BloodyDisgusting has 8 clips from
Let Me In
here, and 40 stills
here
.
Dread Central has news that the new series of
Supernatural
might be taking on Twilight and Vampire Diearies in the vampire stakes.
Shocktilyoudrop has a set visit report for
Stake Land
.
There is news of INCARNADINE: THE TRUE MEMOIRS OF COUNT DRACULA now being available in paperback and for the Kindle
here
.
Fangoria takes a look back at 1960 classic "
The Brides of Dracula
"
There is a mention here that
Dracula : Year Zero
is waiting for financing to be sorted out in an interview with Sam Worthington.
A little
Vampirella
news here, with an alternative cover being produced by Joe Madureira.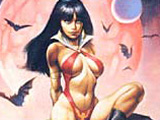 There is a review of the
American Vampire #6
here.